LIVE sports broadcasts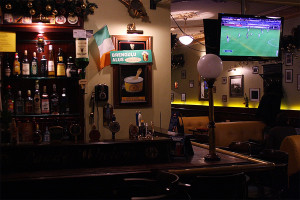 No pub is a proper pub without at least one television screen featuring sports events. We just love our sports at Paddy Whelan's, and we always feature Premier League, Bundesliga, UEFA Champion League, Spanish La Liga and Italy's Seria A games, important ice hockey games, including the KHL and our own Rīga Dinamo team, Formula 1 races, Rugby Union matches, tennis games, basketball, major golf tournaments, etc.

Our pub is always crowded with fans during sports broadcasts, so if you want to make sure to have a seat near the screen that is showing your favourite game, make sure that you make a reservation in a timely way!
Contact us for reservations here.
Full list of Live sport events here.

Placement of tables and screens