Food
We love a good meal here at Paddy Whelan's so very much that we have no intention at all in limiting our taste buds. That's why our menu includes traditional Irish dishes and foods that are better known and beloved in Latvia so as to adapt to the tastes of our own local residents.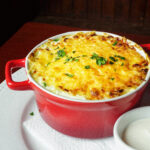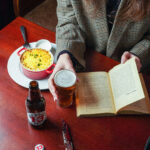 As befits a proper pub, we have no shortage of burgers, sandwiches and various Irish delicacies .
Our menu also includes many different bar snacks – so many that you won't ever run out of options in terms of nosh that allows you to taste another local or imported beer. We also offer grilled food for fans of coal-grilled ribs, chicken, pork, vegetables and more and more.
Ask your waiters is you have any questions. They'll always have the answers!
Lunch
Weekdays 12:00 PM – 5:00 PM
We offer a special lunch menu on weekdays from 12:00 PM until 5:00 PM. Each day the offer includes starter or a desert, a main, and drink.
The price of the lunch offer is indicated in the menu!
All of our foods are prepared with top-quality ingredients.
Prices include VAT (21%).
We do not have any service fees, and it's up to you to decide on a tip for your waiter.
All prices and availability are subject to change without prior notice.