About Paddy Whelan's
Since 1995 we have been offering more than 50 beloved local and global beers and ciders, including the classic Irish Guinness, our own Užava, Brenguļi, Valmiermuiža and other beers, and many more. We also offer a wide range of foods, and because we never want to limit our taste buds, we have traditional Irish dishes, popular burgers and sandwiches, breakfast and lunch offers, popular Latvian foods for our local fans, and our pride and joy – homemade Indian foods!
The idea of opening an Irish pub in Old Rīga occurred to Valdis Bērziņš, a Latvian from Australia, and his wife Julija, who is of Irish origin. Paddy Whelan's is named after Julia's grandfather, and his portrait is in a place of honour in the pub. To make sure that the pub would be built on the basis of the best Irish traditions, Valdis and Julia contacted the MDA construction company in Ireland, which is known in Ireland and beyond. At first, the pub hired bartenders and managers from Ireland to create the precise atmosphere of an Irish pub. The founders are no longer involved in day-to-day operations at Paddy Whelan's, but their inspiration and investment can be seen all around us.
We at Paddy Whelan's are proud to be the first Irish pub in Rīga and the Baltic States. From the bottom of our hearts we want to maintain our popularity not just as originators of the pub movement, but also as a pub that is still trusted and loved by local residents and our city's guests. We are in an historic Old Rīga building that was built around 1795. It was designed by the Baltic German architect Christoph Haberland, and it is in the style of Classicism. Haberland was the building master of the city of Rīga and the only Latvian architect in history who ignored the traditions of his guild and perceived construction as an artistically conceptual process. He designed buildings that were appropriate for the Age of Enlightenment and helped to remove remnants of the Middle Ages in the urban environment.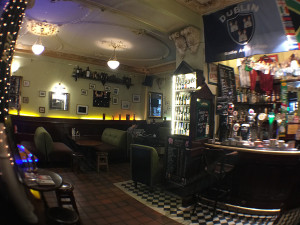 We are immensely proud of the fact that we have preserved the historical entrance door, steps to the second floor and other authentic elements from 18th century Classicism traditions. Paddy has sworn to protect these. Of particular note is the Art Nouveau ceiling on the first floor, and staff over the Latvian Art Nouveau Museum go so far as to recommend that people come and gaze at it. We might add that this historical elements of architecture, which are a true rarity in Rīga, are always available free of charge.
Paddy Whelan's is not just the first Irish pub in the Baltic States, but also the only one to remain open since its first day in 1995. During the Soviet era, the building housed the so-called military officer restaurant "Amūra," and at the beginning of the last century, it was the site of one of the most popular cafés in Rīga, "Reinera kafejnīca."
When a pub is being designed, one of the biggest problems is to create a lived-in atmosphere, which means purposefully scuffing everything from table surfaces and chairs to walls and accessories. That is to ensure that the pub has a history, just like good whiskey that is stored for years to improve its quality and maturity. At Paddy Whelan's we love the fact that our tables have been scuffed over the years by countless guests, celebrations, reality shows, sports fans and parties. Generations of people have grown up with us, and our visitors include not just parents, but also their children. Long-term Paddy guests and those who are familiar with the culture of pubs say that they feel that our pub really has a history and much experience. True, we believe that we are still at the beginning of our life as an Irish pub, and like a full and proper pub, we will be here for many years to come.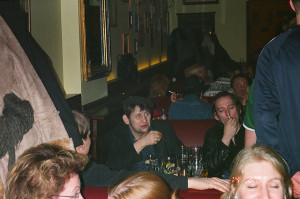 We've had so much fun! There have been countless evenings of unforgettable emotions related to sports, with fans crowding our pub to watch their games. Distinguished Irish guests such as Shane MacGowan from The Pogues have come to visit us, as have well known musicians from Latvia's neighbouring countries such as Boris Grebenshchikov from Aquarium. We have also hosted many experienced and new musicians and artists.
Are you a musician? Do you want to prove yourself? Get in touch, and we'll see if we can organise a concert for you.
We are still one of the most popular venues in Rīga for live sports broadcasts, leisurely evenings, and a chance to meet local Latvians, local foreigners and guests of the city who have stopped by for a pint of beer, a glass of whiskey and a tasty mean. We are a member of the Latvian Association of Hotels and Restaurants, and we are delighted to help out in improving the hospitality environment in Rīga and throughout Latvia.
No matter from where you come and no matter what you do on a daily basis, Paddy Whelan's will always welcome you. Come on in, have a seat, and enjoy a glass of beer. Maybe two.