WE ARE OPEN !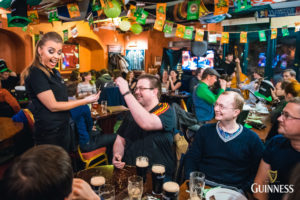 We are happy to let you know that no matter these difficult and unusual times we are finally open again!
We devoted the #stayhome time to polish up Paddy's unique back garden, the summer terrace on Grēcinieku Street as well as the premises on both floors.
We know that this time is hard our guests, hence we went through our menu and made the prices of food and drinks much friendlier. Also, we are trying to support local food farmers and manufacturers.
As per usual, during workdays we will have special lunch offers – 5,50 €. You can eat in or order food via the phone and collect it for take away.
You can also order food and drinks to be delivered at your chosen address using delivery services like: WOLT | Bolt Food | QWQER. We'll be happy to provide lunch at your office or anywhere else, too – as long as it's for 10 or more people.
Paddy Whelan's premises allow us to place tables at a safe distance according to the laws set by the government – 4m2 space per person.
On the pub's second floor you've got the possibility to organise a private event up to 25 people providing safe distance and following all the needed safety measures. Including 4m2 space per person and providing a 2m distance between guests.
Sports events are slowly starting again and as per usual you will be able to watch the most important sports events in the world LIVE.
In order to look after our personnel's and guests' health, we carry out all the necessary security and disinfection measures. I.e. disinfecting tables after every use as well as disinfecting all other surfaces and bathrooms much more often.
We invite our guests to follow good hand hygiene – wash your hands with warm water and the soap specially provided for this situation in our bathrooms.
#Beresponsible and let's meet at the Baltic's first Irish pub
"Paddy Whelan᾿s" since 1995.
Stay strong and in good health,
Paddy's people